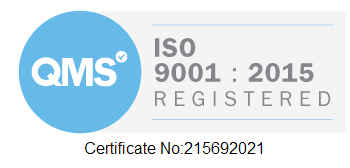 ISO 9001 – the world's most recognised Quality Management System Standard. It sends a powerful message to our Customers and Stakeholders of our commitment to Quality.
ISO 9001 has been adopted by over 1 million organisations across the world and is used by businesses to continually monitor, manage and improve the quality of our services.
The ISO 9001 Standard is a powerful business improvement tool, providing the framework and guidance needed to consistently meet, or exceed, our customer's expectations and regulatory requirements.
QMS is one of the UK's leading ISO Certification bodies.
A very important locksmith accreditation to have in place. ISO 9001 isn't taught like locksmithing skills can be on a locksmith course it is awarded to LockRite for it's robust Quality Management standards.